Bio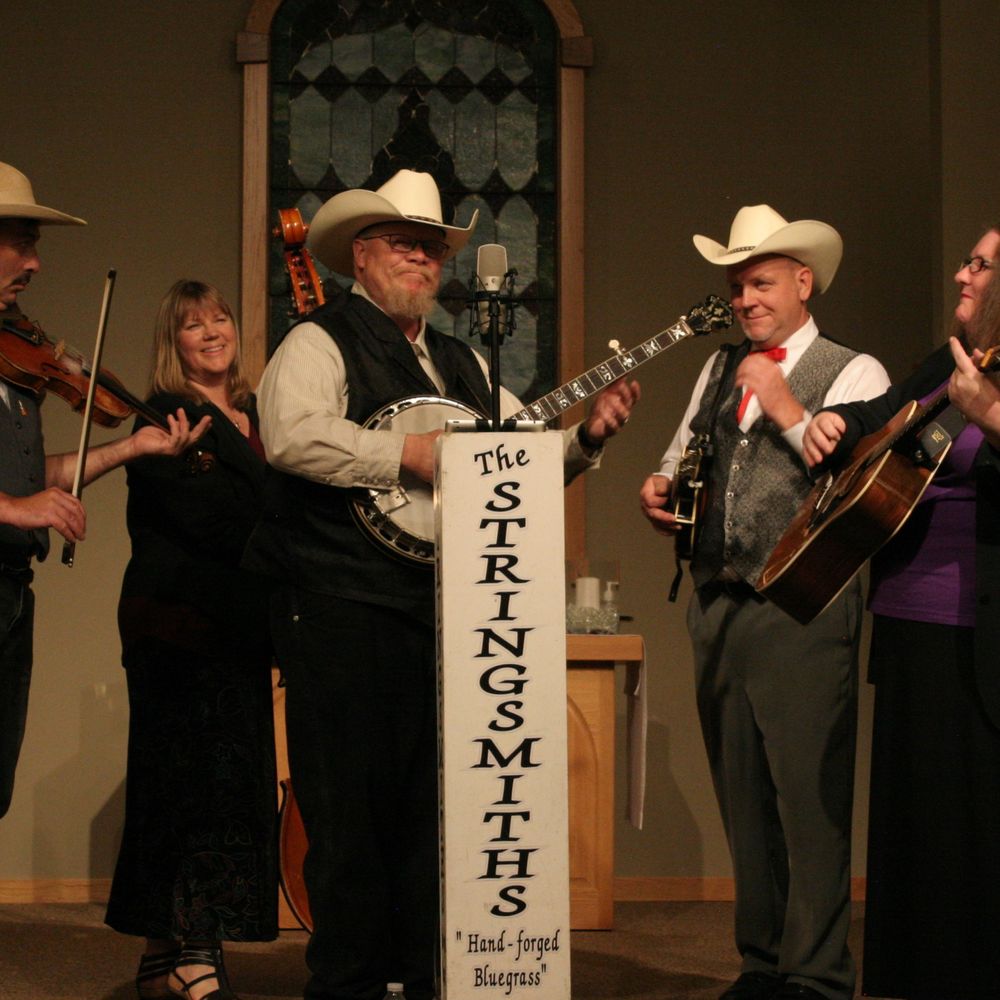 The Band
Chris Landstrom - Banjo, Guitar, Baritone and Bass Vocals
​Co-founder and emcee, Chris has been a lifelong bluegrass enthusiast who in 2001 decided it was time to get involved in playing the music that stirs his soul. He picked up the banjo and has never looked back. Some of his strongest influences include heroes such as Earl Scruggs, Dr. Ralph Stanley, J.D. Crowe and Jim Mills. He has also pursued an interest in songwriting and has three tunes recorded on The Stringsmiths' first album -  Standing In The Circle. Chris has played or filled in with several area bands such as The Midnight Coal Company, The Lazy River Boys, The Cabin Dwellers, Forest Ridge,  and Big Daddy Chopper and the Feather Pickers.
Barb Landstrom - Upright Bass, Lead & Harmony Vocals
Barb (Chris' wife), started playing bass when the band ended up needing a bass player.  She has learned much, but according to her, still has much to learn! Music has always been a part of her life - she played trumpet in school and has sung (and still does) in church choirs, community choir and a women's quartet.  Besides thumping the bass she loves singing harmony with Mary and "the boys" and on occasion can be convinced to sing lead.  She's also the band's "head cook" and calendar keeper.  Contact Barb if you'd like to book The Stringsmiths @ 715-419-0190.
Nate Elmer - Mandolin, Guitar, Lead and Tenor Vocals
​Nate has been involved in music most of his life. His father sang high lonesome tenor in a gospel quartet all throughout the 50s and 60s and played country and western guitar all the while that Nate was growing up. He credits his dad for the desire to learn to play and sing. Nate often shares a story from his childhood in which his dad would tune the guitar, place it in a stand and look at Nate and say, "Now I just tuned that thing up ding ding, don't fool with it!". Of course the first thing any kid would want to do is get his hands on that guitar and fool with it and Nate was no exception. Nate is most strongly influenced by the life and music of the father of bluegrass, Mr. Bill Monroe. He has exhaustively studied Mr. Monroe's music and playing style as well as found great interest in the man's life history. Nate plays or has played for other bands such as The New Midnight Coal Company, The Cabin Dwellers and Long Surrender.
Dr. Mary Pimblett - Guitar, Upright Bass, Lead and Harmony Vocals
A native of Virginia, Mary has been interested in and involved with bluegrass much of her life. She is a multi-instrumentalist and a wonderful singer and can sing lead as well as harmony parts. She plays rhythm guitar, mandolin, fiddle and bass and was instrumental in helping Barb learn to play the bass. Mary is a Chiropractor when she's not playing music and serves patients all around northwest Wisconsin.  
Randy Hanson - Fiddle
​Randy Hanson is no stranger to bluegrass fans in the midwest. A self-taught fiddler, he has been playing since the age of 13 when he picked up his grandfather's fiddle and started to learn. He has played for many bands as well as done a significant amount of solo work. We have yet to come up with a fiddle tune that Randy doesn't know.